NEWS | New Chief Strategy Officer
Posted: 12th October 2022
Airship has strengthened its leadership team and promoted Viki Freeman to chief strategy officer.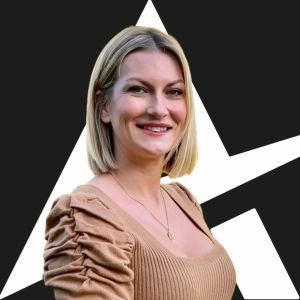 Viki previously held the title of Workplace Strategy Director at Airship and has over ten years of experience in the gaming industry. Viki comes from a background in recruitment, talent management, employee relations, and strategic HR. In her new role, Viki will help plan and facilitate Airship's key strategic business initiatives and future development goals.
Airship has recently received £450,000 of investment to expand its service delivery, accelerate recruitment and grow its global footprint.
Airship has expanded by 70 percent this year and has invested in a new, state-of-the-art headquarters in South Manchester that will provide over 200 new jobs!
New leader
Joe Harford, Airship Interactive founder, and CEO said:
"I am thrilled to welcome aboard Viki to Airship's C-Suite. She is an inspiring leader and has enriched our company with her brilliant business acumen.

"Viki's promotion shows the importance of her leadership and vision here at Airship. With Viki's excellent strategic direction, we can continue to develop Airship into the world's number one game art codeveloper studio."
Viki added:
"My focus will be to build Airship into an incredible employer and business. I want to set a best-in-class precedent in how leadership and direction in business are done. I have dedicated my career to driving these standards and underpins my strategy of encouraging a people-centric vision.

"It can be tough as a female in a male-dominated industry. Luckily, there are inspiring women everywhere who continue to break away from gender norms and pave the way for new female leadership roles without changing who they are.

"As a Woman In Games Ambassador, I have worked hard to encourage others to believe in themselves. Nothing is impossible–this is something I will continue to do in my new role."
Find out more about our who we are here. Alternatively, we're looking for talented people to join our crew! Are you looking to take your career to new heights – join us